About the Campaign
In 2020, the SAU men's and women's track and field team experienced a disappointing setback due to the cancellation of the season. However, with the help of a donor in December of 2020, Southern Arkansas University was able to make significant enhancements to the track and field facility. Moving into the spring, SAU was selected to host the 2021 Great American Conference Championship on April 15, 16, and 17. Currently, both teams are back in action, completing their first meet at the Mississippi College Opener. With help of many new faces and the leadership of several returners, the SAU track and field program expects to remain as one of the top tier programs in the conference.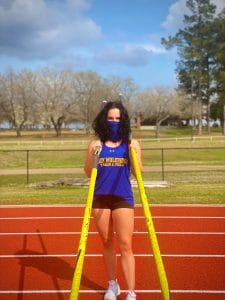 What has past support accomplished?
To those that have supported our previous Ignite projects, thank you so much! The proceeds from last year's fundraiser helped provide poles and other equipment and gear.
How you can help?
You can make a gift of any size today by clicking the "Give" button at the top of this page or by clicking on any of the giving levels below.
But we need more than your financial contribution! Please consider sharing this page on social media or by email with your friends, family, co-workers, and others and challenge them to match your gift!