About the Campaign
We have achieved our goal! A big thank you to those that have invested in the lives of our student-athletes; we are incredibly grateful!
However, we still have quite a few days before we reach our time limit, and we will leave the campaign open until then. If you have not yet made your gift, you can still do so below (and take us past 100%)!
About the team
In 2019, the SAU men's and women's track and field team experienced great success. The men's team finished as the 2019 Great American Conference Runner-Up, and had two participants compete at the 2019 Division II Outdoor Track and Field Championships. The women's program finished third at the conference championship and had five individual conference champions.  A major part of this year's success can be attributed to the support of our alumni and friends. As we move into the 2020 season, we ask for your consideration of joining with our team to provide the essential resources to be successful and continue to be a competitive program.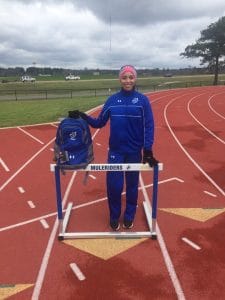 What has past support accomplished?
To those that have supported our previous Ignite projects, thank you so much! The proceeds from last year's fundraiser helped provide warm-ups, new bags, and extra shoes for the track/field athletes (see image).
How you can help?
You can make a gift of any size today by clicking the "Give" button at the top of this page or by clicking on any of the giving levels below.
But we need more than your financial contribution! Please consider sharing this page on social media or by email with your friends, family, co-workers, and others and challenge them to match your gift!